When a patient requires surgery to address a problem in their rectum or colon, they could go to either a general surgeon or a colorectal surgeon as there's not much of a difference, right? Actually, no. There is a difference. A difference in education. A difference in training. And a difference in understanding of the ailment needing surgical attention.
A common misconception is that the colorectal surgeon is a general surgeon who just picked a niche and fills their surgical schedule with those types of procedures. Not so, says Daniel Coffey, M.D.
Dr. Coffey, a licensed and board-certified colorectal surgeon, and a physician on the staff at the Digestive Health Institute, explains. "Colorectal surgeons have completed a general residency and have become Board Certified, just as a general surgeon. However, they have also completed a second residency in colorectal surgery and become dual board-certified.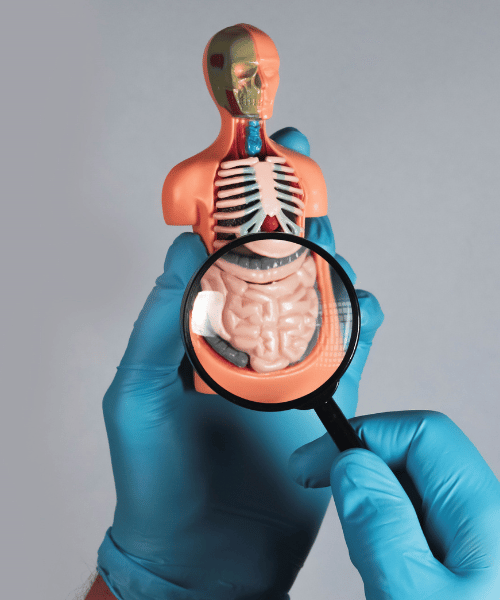 "A general surgeon must undergo five years of general residency. Colorectal surgeons then must undergo an additional one to two years of colorectal residency (as determined by their Colorectal Surgery Fellowship)," Dr. Coffey further clarifies.
The Digestive Health Institute is where the 
 ONLY BOARD CERTIFIED, FELLOWSHIP TRAINED 
 COLORECTAL SURGEONS 

IN THE LANSING AREA practice.
What Does a Colorectal Surgeon Do?
General surgeons perform a wide range of surgical procedures, including appendectomies, cholecystectomies, and hernia repairs.
Colorectal surgeons are more specialized than general surgeons and have more experience in treating diseases of the colon, rectum, and anus. They may perform more complex surgeries, such as colectomies, abdominoperineal resections, and laparoscopic surgeries, both for cancer and Inflammatory Bowel Disease.
"We also deal with Inflammatory Bowel Disease, Ulcerative Colitis, Crohn's Disease, and colorectal cancer. Especially rectal cancer," says Dr. Coffey.
Rectal cancer is just one of the areas where a highly specialized surgeon is to the patient's benefit. Rectal cancer is cellular, same as colon cancer, but it lives in the bony part of the pelvis. This makes it technically more challenging to treat, according to Dr. Coffey.
"There isn't much room to work while also avoiding damaging nerves, for instance," says Dr. Coffey. "There are various ways to treat it and we determine which is the best for the patient."
Dr. Coffey says practitioners like him also often see referrals for treating anal fistulas (tunnels that develop between the inside of the anus and the outside skin around the anus), anal fissures (tears in the lining of the anus or anal canal causing pain with bowel movements), and frequently treat hemorrhoids.
Practicing since 2005
Board Certified, General Surgery
Board Certified, Colon and Rectal Surgery
Been with the Digestive Health Institute his entire career
Open to seeing new patients!
Can make an appointment directly but check with your insurance company to see if a referral is required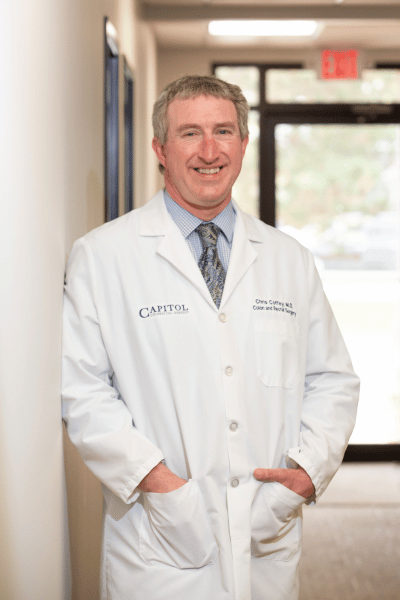 It's Not Always a One or the Other Situation Though
The aim of every medical professional is to provide you, the patient, with the most beneficial, pain-free, and curative care possible based on your unique health profile and situation. To that end, colorectal surgeons and general surgeons frequently work side by side in the care of a shared patient.
"Most of the ways we collaborate is when they see something that concerns them (in the area of the rectum or colon) or if they have chosen not to do those types of procedures," says Dr. Coffey. "Another way is when we see the colon cancer has attached itself to the gall bladder, for example, the general surgeon will go in and remove the gall bladder at the same time as we are operating on the colon cancer."
Your caregivers across all pertinent disciplines will collaborate to come up with the most optimal care plan (or plans) so you have all the information you need to make the right choice for your personal health journey.
When it comes to concerns about your colon or rectum, however, it is highly advisable to consult with a colorectal surgeon. They will be able to diagnose and treat any problems you may have, as well as these other benefits:
They are more specialized in treating colon and rectal problems than general surgeons
They may be able to perform more complex surgeries, such as colectomies, abdominoperineal resections, and laparoscopic surgeries
They may be able to provide care for patients with more complex non-surgical conditions, such as Crohn's disease and ulcerative colitis
They may be able to coordinate more personalized care for the treatment of colorectal cancer, including advanced treatment options, such as surgery, chemotherapy, and radiation therapy
They may be able to provide more personalized care and support
Dr. Coffey puts it succinctly: "We know what to expect in the treatment of colorectal diseases and can do the best job of preparing our patients for successful treatment."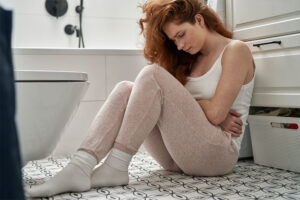 Food intolerance is a term for when your body has a tougher time digesting certain foods than others. Some reactions may be mild, while others
Read More »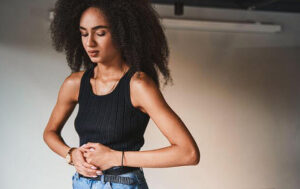 What are the causes of bloating? As previously stated, bloating is caused by gas buildup in the stomach, resulting in stomach swelling. According to the
Read More »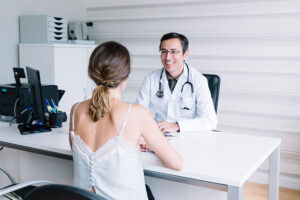 A gastrointestinal specialist is someone with extensive medical knowledge of the gastrointestinal system. They are professionals who are great resources for a variety of digestive
Read More »